Interview with J-Bird, CEO of J-Bird Music for the Arts, Inc.
I LOVE going to the movies….and of course performing musically. I'm also a credentialed Freelance Journalist and have a passion for writing….and apparently, a "flair" for video interviewing.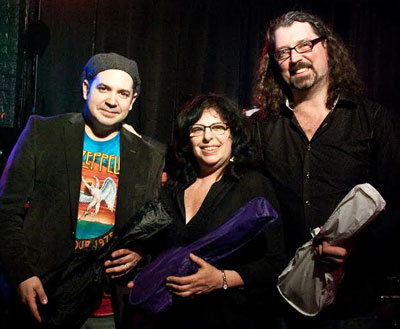 1. Tell us a bit about J-Bird Music for The Arts, Inc.
J-Bird Music for The Arts, Inc. is a 501(c)3 nonprofit organization, enriching the Long Beach NY community as well as various locales in the NY State region. Its MISSION: To produce and present a variety of entertainment and events, to raise an awareness and garner much needed funding/Performing Arts & Music related equipment to support the dwindling Performing Arts & Music Programs in New York Education. The non-profit encourages the cooperation and synergy of various sources, such as educational organizations, private patrons, business sponsorship (both local and corporate), government agencies, cultural organizations and the Media, in its quest to achieve its purpose.
2. What gave you the idea for your business and how did it start?
I was in an auto accident in September 2005, hit by an unlicensed driver. As a result and completely by chance, a walnut-size brain tumor was discovered in my head. I had 3-4 months to live or become severely brain damaged, had it not been found. As a professional musician and because my children are professionally active in The Arts…..and because of the dwindling support of music programs in particular in New York schools, I decided to use most of my finances to start this nonprofit several years after the subsequent brain surgery/recover time as well as knee surgery…then a total hip replacement….and several years of physical therapy….all resulting from the "blessing in disguise" car accident. The nonprofit helps build an awareness of programs available to students and is very active in acquiring new or "good as new" instruments, donating them to various music programs in schools and music-related after-school programs and clubs around New York State. Basically, I was given a second chance to live and this is how I'm doing it.
3. What's your favorite thing about your job?
It's wonderful to see the faces of parents who are looking for an organization like ours, where they can find support for their children….especially teenagers, as it is told to me quite often by parents that their teens won't listen to them….but as I'm a Hartke Endorsed Rock Bass Musician who is currently performing in a band that's going into its 41st year……the parents find their teens will listen to what I have to say with respect to advice and experience in the field of "live music performance". I have found that teenagers in particular are happy to have me support them and through some of our nonprofit's events, supply them with a platform to perform or get sound advice (no pun intended).
4. What are your keys to making yourself productive?
Well, I am productive in many areas. Mostly, I am driven by my passions….and as I've said before when being interviewed for magazines and radio……"I don't believe in the no-win scenario"…….a quote by Captain James T. Kirk on Star Trek. I live by that philosophy with everything I do. I will often add the hashtag of #DoTheWork in social media writings.
5. Tell us one long-term goal in your career.
As our nonprofit got off to a slow start (but never a standstill!) due to my car accident/brain tumor surgery/knee surgery from the car accident/total hip replacement and subsequent years of physical therapy…..and then devastation here from Hurricane Sandy……I'm looking forward to an upcoming 6 month PR campaign and Spring 2018 NYC fundraiser…..and in the long run…….a solid continuation of the nonprofit and its mission to help students of "the arts".
6. What's the most valuable lesson you've learned through the course of your career?
I am sad to see that, for the most part, there is a large amount of people who become envious at my success or try to ride on my coat tails. I have a very strong work ethic, taught to me by my Dad (now deceased) who was a professional musician ("back in his day") and a successful entrepreneur. I very serious and genuine in all I do, and have little respect for people who don't want to "do the work". My biggest personal lesson is to not be so trusting of people….sadly.
7. What advice would you give to others aspiring to succeed in your field?
It's important to find a "like minded community" of people who are "of quality" and share your passions. The Arts community is very passionate and supportive, whether it be music, dance or acting. It's important to follow your dreams and not let any rejection take you from your path.
8. What are your favorite things to do outside of work?
I LOVE going to the movies….and of course performing musically. I'm also a credentialed Freelance Journalist and have a passion for writing….and apparently, a "flair" for video interviewing. I'm also a "foodie". I love to cook and I love fine dining. I have a world-wide audience and large national following who knows that I LOVE Pizza!
9. Name a few influential books you've read and/or websites you keep up with that you'd recommend to readers.
I'm an avid reader of the New York Times and follow their Arts sections very closely. As much as the newspaper is online in a digital format, I prefer to read the print version. I'd have to get back to you about books and websites. I'm a news junkie and read many things, due to my diversified interests.