Q & A With Flavio Maluf, CEO of Eucatex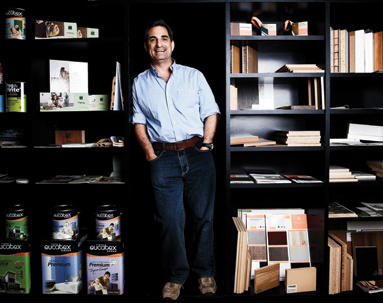 ­Flavio Maluf was born on December 2, 1961, to a wealthy family in São Paulo, Brazil.  As a child, Maluf's family were well known in the community as the owners of  The Eucatex Group, a building supply company that opened in 1951.
Maluf graduated from FAAP (Fundação Armando Alvares Penteado, Brazil) as a mechanical engineer, and also studied administration at the renowned New York University, or NYU.
In 1987, Maluf started working at his family's company, The Eucatex Group. The Eucatex Group originally built its foundation focusing on laminate and vinyl floors, baseboards, paints, wall partitions, doors, and panels, as well as built well-made and beautiful furniture and toys. Even today, the company creates the same products. These products were and still are made from Eucalyptus wood fibers, a unique type of wood found in Brazil. The laminate flooring made from Eucalyptus is offered in a variety of styles such as classic, elegance, rustic, and prime.
Maluf started off in a low ranked position,  eventually transitioning to the industrial area after only a few years. After almost ten years of working at the family business, in 1996, Maluf's uncle, who at that time was the current president of the company, invited Maluf to be part of the executives of the Eucatex Group. Then in 1997, Maluf's family appointed him as President of the company. This promotion came after Maluf successfully displayed to his family the benefits he brought to the company.
Upon assuming the company's presidency, Flavio Maluf began a process of modernization –  Maluf took it upon himself to implement innovative ideas and invest heavily in launching new, creative products. When Maluf took reins of the company, The Eucatex Group only had one plant in Salto, São Paulo, known as the Chapas Unit, which was opened in 1954. However, with Maluf's innovations and development, the company eventually expanded and opened a new factory in the same region.
Today, Maluf  is a well-known entrepreneur and recognized CEO and President of the Eucatex Group. A recent interview with Maluf provided a more in depth understanding of who he is and what he does.
An Interview with Flavio Maluf
 How did you get the idea for the The Eucatex Group?
 My grandfather, Salim. He founded one of the largest sawmills in Latin America in 1940. This provided my uncle and father the opportunity to use the sawmill forests to make a wood fiber lining industry. They named is The Eucatex Group, after the Eucalyptus because they used Eucalyptus to manufacture the slabs for their furniture and their civil construction products.
 You are a very innovative man. What about technology's trends are you inspired by?
 The evolution and how you can use them in your business. There is evolution in both technology companies and online services, which both catch my attention.
 Generally speaking, what inspires your ideas?
 My surroundings – I read magazines from my sector, I review news on the internet, and I pay attention to related products. I then discuss the new ideas with my team to see which could be implemented.
 What does a day in the life of Flavio Maluf look like?
 About four days out of the week I am at the office all day, from 8:45 AM to 6:30 PM. These days are organized and my agenda primarily consists of meetings with various companies in the area. The fifth day during the week I visit the factory – I want to stay in touch with the production. I also make sure to get exercise. I go to the gym twice a week at 7 AM for aerobic exercise, and on the weekends I go out on my track bike.
 You are well known as a hard-working individual. What habit do you have that you think contributed to your success?
 I am always looking for new ideas. During the week, it is obvious – I am in the office looking for new ideas. But on the weekend, even when I am reading material that helps me relax, I am also looking for ideas that I can implement at work.
 So research and learning seems important. What program helps you stay productive with this task?
 The QlikView program of management reports – it is used to analyze business performance.
 Let's talk more about you. As I mentioned, you are very well known for your success – but what is one failure you have experienced, and how did you overcome it?
 There have been several products over the years that have failed – the failure rate however relates directly proportional to its growth ambition. It is about recognizing your limitations and finding what will work. Failure is a part of success.
 Being an entrepreneur means being innovated, even when challenged. What is one thing that you struggle agreeing with people on?
 I believe that we can grow our company even though we are already the market leader. This is advice I would give to new entrepreneurs too. If you have an idea, go for it. Dedicate yourself to the idea and strive for perfection. This is what I do and will continue to do.
 Great. Now that you brought up aspiring entrepreneurs,  can you share about a strategy that helped your business continue its growth?
 Consumers want novelty so the key is to anticipate new trends. Today you can see that consumers are seeking environmentally friendly products. We were ahead on this – in the early 2000's we were the first company in the world to offer environmentally products to the well known American chain, Home Depot. Their products are certified and even today we are a relevant supplier to them.
 That sounds very strategic and now I can see how you have gained so much success. So now, tell me one business concept you follow that you are willing to share with our audience?
 Remember your products – like I mentioned, natural and environmentally friendly products are on the rise in all areas. This production is our future.
 So now that you have had years of experience, what is one thing that you would want to tell to your younger self?
 I would look at a field outside of the family business. I've said this before but the customs are changing at a speed that there is no more branch that is not in constant transformation and rapid evolution.
 Thank you so much for your time today.
Today, Maluf is still running the Eucatex Group, developing cutting edge products to distribute to its consumers. The products are distributed worldwide, both residential and commercially.The  Eucatex Group also continues its production of environmentally friendly products – they have even incorporated a recycling plant within that factory that used the leftover wood to create energy. This is the first business in South America to incorporate such a recycling program.
Additional growth Maluf has developed for the Eucatex Group includes:
The Eucatex Group now provides exports to Germany, Holland, the United States, the United Kingdom, Mexico, and 35 other countries around the world.
The Eucatex Group's building supplies were involved in building the stadium for the World Cup. That stadium has been recognized for its vibrant colors.
The Eucatex Group assisted in building supplies for the 2016 Summer Olympics, which were hosted in Rio. Maluf used this chance to use the Eucatex Group's paint – this paint is now a well known household name.
Flavio Maluf Outside of the Eucatex Group
Not only is Flavio Maluf running one of the most successful companies in Brazil, he is also the president of the GrandFood Group, which is the parent company of the Premier Pet and Golden Feeds.
Outside of business, Maluf is recognized for being involved in charity events and volunteering in his local community. He recently collaborated with the Hospital and Maternidade Ídio Carli, former home of Santa Emília Health. He has even donated items such as X-ray machines to places like the Idio Carli Hospital and Maternity. Maluf's contributions supports his belief that it is important to help the local community.
Maluf's Advice to Aspiring Entrepreneurs
Maluf is also a mentor to thousands, if not millions, who are trying to succeed as entrepreneurs. He writes blogs, sharing his insight on how to succeed in the business world – his blogs have been featured in many magazines and newspapers. Maluf does advise people who are seeking to join the business world to proceed with caution. Most entrepreneurs believe that owning a business means they will work less and earn more. According to Maluf that is false – growing a business takes dedication and time.
Not only is starting a business challenging, but starting a company in Brazil is even more difficult. Some of the most prominent challenges seen include high staff turn-over, high taxes, bureaucracy (it typically takes up to 185 days to open a business in Brazil), government delays, lack of education, high cost of benefits, and required employee holidays. However, Maluf has been successful in overcoming these challenges. He shares insight on some of these complications, incorporated in the outline below.
In every interview conducted with Maluf, he is consistent on his advice and open about challenges he has faced. He has even shared key points that he learned through working in business for over 30 years. Below is a breakdown of inspiration shared by Maluf:
On Starting your Business:
There is a myth that your need money to start a business. However, there are many business models that do not require high start-up costs. If you want be an entrepreneur and you do not have the funds, get creative. Develop a plan that requires less start-up costs.
There are many investors today looking for creative ideas. Work smarter, not harder – identify an opportunity that can grown and improve. Be ahead of the curve and develop a business in which you can bring something to the industry.
On Growing your Business:
Pick an effective company name. Many people just pick a name – but this is what defines who you are. (The Eucatex Group is named after the type of wood they use, Eucalyptus!)
Know your target audience – to survive, you must know your consumers and attend to their needs. They are the ones that will give return to an entire investment.
Have a well designed business plan – this can make or break your business. It not only provides an overview of the work, but also highlights the potential challenges. Having a detailed business plan can set an entrepreneur up for success.
Know your competition, both direct and indirect – you are not the only one working in the industry and it is important to learn from your competitors. It provides you with knowledge to learn about failures and what does not satisfy customer needs. It will also allow you to stay ahead of the market. The goal is to create products that will increase revenue and set you apart from your competition.
Test your product before investing everything – do research, simulations, and use your products. Understand the benefits and downfalls of the product to have a deeper understanding of its potential
Make it a basic principle to have an established administrative team from the beginning. It is important to ensure accounts are managed properly and responsibly (this includes your team that will manage your taxes, billing, etc.)
Having a business partner can be beneficial. Having someone to talk to about issues and making decisions together is an asset. Additionally, more people equals more ideas. Starting a company individually can create a greater challenge. (The Eucatex Group was started by both Maluf's uncle and father).
Have a routine. Maluf is well known to be at the office early in the morning until late in the evening. He even visits the production site to ensure employees that he is present. Also, this helps him stay in touch with day to day issues.
ALWAYS BE LEARNING. Analyze, assess, compare, and innovate. Learning is key to success and growth and it never hurts to read a little more. Maluf has shared that he is always seeking inspiration for new ideas that will help his company grow.
On Individuals Habits:
Always be focused – pay attention to detail to avoid panic about delivery times or unexpected errors. Staying focused is an aspect too that one must strive to do – it usually does not come easy.
Employ new methodologies – be open to new ideas and innovation. This is how you can succeed in an ever changing business world.
Reduce your time spent on the phone – phone calls provide distraction, deterring you from your primary work.
Avoid unnecessary conversations – yes, conversations at work occur, but the majority of time should be spent doing something productive.
Again, ALWAYS BE LEARNING. This is one key point that Maluf emphasis on all aspects of business development. This is the key to continuing ones business in today's fast pace and quickly changing world.
It is often said that when you are open to giving, you will receive more. This seems to be the truth for Flavio Maluf. He continues to share his insights and experiences with others, and at the same time, his business continues to grow. Through sharing and discussing, Maluf is also open to new ideas from others. Through communication, he can find new inspiration.
The Eucatex Group Today
Flavio Maluf recently announced that his company, the Eucatex Group,  had acquired the unit of wood fiber sheets based in the city of Botucatu from Duratrax. Maluf shared how the companies will do business – the Eucatex Group will trade its farm in exchange for a production line of thin wood sheets. The plant currently has 280 employees, and they are estimating a production yield of 200 thousand cubic meters. The acquisition indicates that the Eucatex Group will be able to improve their productive capacity by 70%, their paper printing capacity by 40%, and their paint by 30%.
However, the Eucatex Group is still waiting for the approval by  the Administrative Council of Economic Defense, also known as CADE.
Flavio Maluf's creative innovations and hard working attitude has led him to becoming one of the most well known businessmen in Brazil. He continued to display effective business strategy techniques, supporting his position as one of the world's leading innovators. The future of the Eucatex Group looks promising – and only time will tell what new ideas Maluf will introduce into the world of material production.
Follow Flavio Maluf on Twitter for more on the Eucatex CEO's business insights.