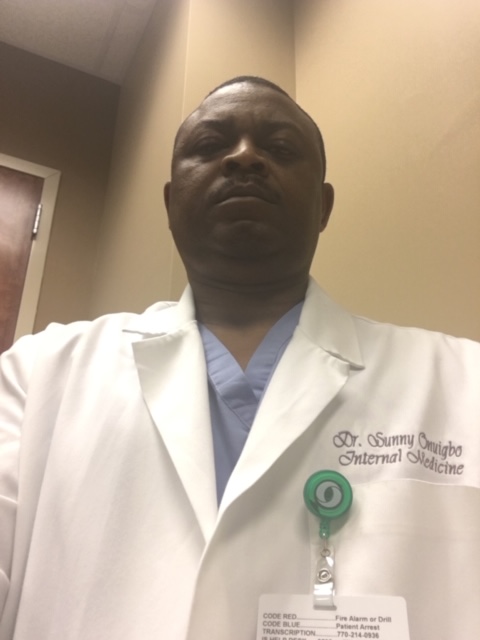 Dr. Sunny Onuigbo is a traveling board-certified internal medicine doctor based in Alpharetta, Georgia. Dr. Onuigbo assists facilities throughout the country who need more providers on staff for short term coverage. The opportunity to serve such a diverse patient base has allowed him to build his knowledge, enabled him to help put people back on the path to healing and health, and opened the way for him to share his passion with others.
Dr. Onuigbo grew up in Nigeria and found his calling to be a physician at a young age following the death of his own mother. He attended the University of Nigeria, with an initial interest in veterinary medicine. His family got the opportunity to move to the United States in 1997 before he was able to complete that degree.
Once here, Dr. Onuigbo continued his education, first receiving a Bachelor of Science in Nursing from the University of Massachusetts then moving on to his M.D. in 2013.
In his free time, Dr. Onuigbo spends time at home with his children. They also enjoy international travel whenever they can.
Why did you choose to become a doctor?
I grew up in Nigeria. Access to health care is not widely available. My mother passed when I was a year old while in labor with my twin siblings. I saw my friends with their mothers, and I felt a sense of loss. I never had the privilege of feeling the love of a mother.
As I got older, I began asking what had happened and learned that she most likely had passed from hemorrhage due to preeclampsia. In other words, had the access been there, a cesarean could have saved her life and the lives of my siblings. I felt an overwhelming need to help others so they wouldn't have to experience what I did. I knew from a young age that I wanted to be a doctor.
What area do you specialize in?
I am a board-certified internal medicine doctor, which is a more general physician. We look at the whole patient, not specifically at one particular issue. We diagnose and create a plan of care. If it's necessary, we will refer patients to a specialist.
Specifically, I am a traveling physician, meaning I frequently travel throughout the country to different hospitals and assist for a short time as I am needed. I really enjoy getting to help so many people while learning about illnesses I wouldn't typically learn if I were rooted in one hospital.
Why did you choose this specialty?
I feel like I am gaining more knowledge by being a traveling doctor. When you are employed by a specific facility, you are bound by their respective rules and treatment plans. I get to see how different hospitals approach different routines and I can use that in my own clinical assessments.
I had initially planned to specialize in OB/GYN, but I found it wasn't my calling. During my residency program, I spent time in that field and found it too emotional for me. I would be distracted, thinking about my own mother and how her death could possibly have been avoided. The last thing you need is a distracted doctor, so I changed my focus to internal medicine. I feel like that was the best choice for me.
What is your daily routine?
I don't have a typical workday, which I thoroughly enjoy. Before I leave home, I get my itinerary together, including what facility and what area I will be working. When I arrive, I rent a car and head to work.
I primarily work as an admissions physician. That means I get direct patient contact while getting their history, checking for allergies, and the general information on what has brought them to the hospital. I then initiate their plan of care. I help determine where they need to be admitted and what needs to be done.
Other times, I am a rounding physician. This is when a patient has already been admitted, and I am following up on their continuity of care. Generally, this is done in twelve-hour shifts.
What do you love about your job?
The reward for me is the positive impact I have on, not just the patient, but their family as well. I have received letters from families thanking me for helping their loved ones. I'm usually at a facility for several days, and I will follow up with patients to be sure the plan of care is helping them. It's just such a joy for me to see them doing better and know that I had a hand in that. When I first started as a traveling doctor in 2015, I was concerned that I wouldn't be able to follow up with patients and I am so happy when I can.
What would you consider to be the greatest accomplishment in your career?
Really, for me, just becoming a doctor is my greatest professional accomplishment. I came to the states before I was able to finish my schooling in Nigeria, so in some respects, it was like having to start all over. When I'd completed all of my education, I was just so thankful to have that opportunity.
Personally, I feel my greatest accomplishment is having my family. My children are my world, and I so enjoy spending time with them.
Tell our readers about some of your volunteer activities.
I have done several medical missions, mostly in Nigeria. When these are organized, it's a group of doctors traveling for a specific reason. We are there for a set amount of time to provide medical services otherwise not available. We provide access to medications or treatments that cannot be obtained in any other way.
I also tend to help people I know personally when I am home. I am known to be a doctor, so a lot of times people will reach out while I am visiting on a mission and I will help them as well. Usually, this is for general health care issues.
What do you do in order to mentally separate yourself from your job?
Since I travel so much, my idea of winding down is a bit different than my colleagues. I fly to Atlanta and spend some time with my family. I use this time to catch up with my children's daily lives and to unwind from my recent trip. I also enjoy reading and keeping up with world news.