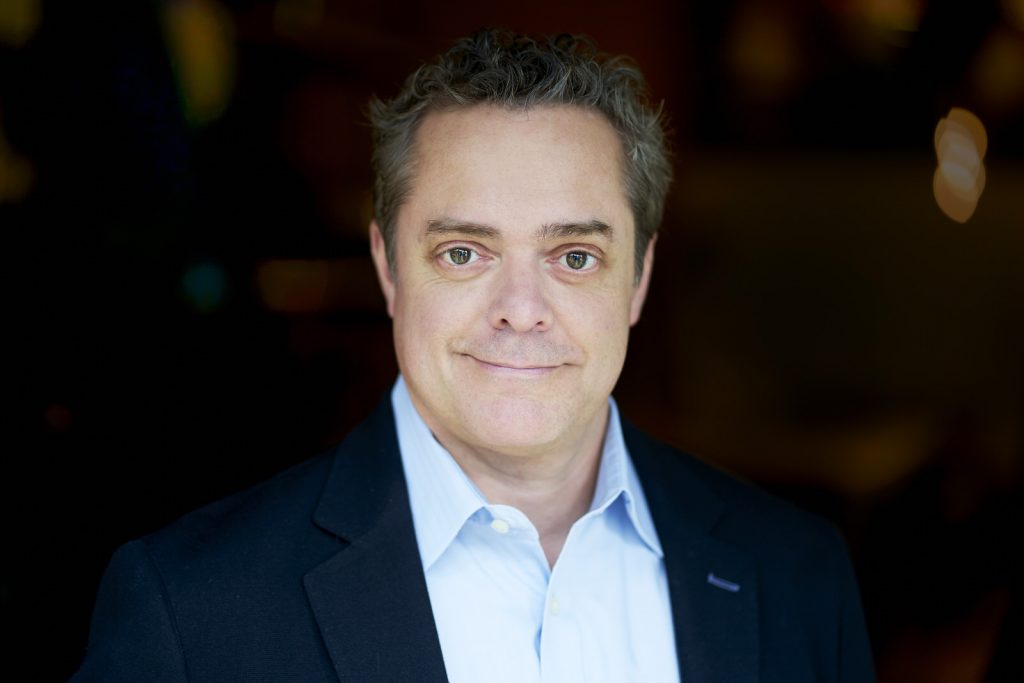 Born and raised in Wenham, Massachusetts, comedian and actor Chet Harding first began performing at talent nights in high school.
He attended Amherst College where he first majored in political science and had a seat on student government. He then pursued a major in environmental economics and law, from which he graduated magna cum laude.
During his sophomore year at Amherst, Chet Harding started doing stand up comedy performances. After performing well in a competition over at the University of Massachusetts, he entered the Boston Comedy Riots competition that summer and came in second place. This led to him booking stand up gigs at nearby colleges while he finished school.
After graduation in 1992, Chet Harding was hired at the advertising agency Leo Burnett in Chicago, where he worked on the Kellogg's accounts by designing new cereals and advertising for some of the brands they already had. While in Chicago, he joined Second City comedy and began taking classes to learn more improv.
In 1996, a job offer from Polaroid as their advertising director returned Chet Harding to Boston. Not long after, he launched Improv Asylum in 1998 with two others and left his corporate job shortly after.
This DiSC certified trainer has four kids and coaches youth sports in his spare time. He is an avid sports fan and spends a lot of time outdoors biking and kayaking.
What inspired you to pursue a career in comedy?
I think part of my inspiration came from my grandfather who was a very good storyteller. He was really funny and in many ways a father-figure for me.
But I think the other part had to do with being the youngest of my entire generation, not just my immediate family. My father and grandfather were also both named Chet Harding, so I became Little Chet and when I entered high school I was only 4'11, so I really was Little Chet.
So I think some of it came from being the youngest, the little kid, and the need to find a way to connect and overcome that, which I found through humor. By making people laugh. It doesn't matter how big, small, or what your background is — humor can really transcend all that.
What types of individuals are successful in the comedy business?
Creative people who love to make others laugh. You have stand up comedians and improv comedians and it's kind of interesting because stand up comedians usually don't do improv extremely well and vice versa with improv comedians. Stand up is more about yourself and your writing but with improv, you're on stage with other people and you have no idea what you're going to say or do.
What's your ideal company culture like?
I think the ideal company culture is one that really acknowledges that a great idea can come from anywhere and encourages employee recognition and engagement so that whether you're in an entry-level position or a CEO, you're encouraging dialogue, truly listening to people, and embracing others' ideas. You're also recognizing people, giving them credit, and giving them more opportunity. If someone has great ideas and they do well, then you'd advance them in the company.
Overall, I think it's important to create an environment where people are encouraged to give their ideas whether or not their ideas end up being actionable or not.
What was the biggest hurdle of breaking into the industry?
From a performance standpoint, the biggest hurdle was really just following through and doing it. Getting out there, finding a class to take, and summoning the courage to go for it.
From a professional standpoint in terms of launching the company, we initially launched it when I was in my mid-twenties, so it was finding a way to get financing for it without having collateral. We needed to put together a creative and convincing business plan to get people to lend us money. We then had to use that business plan to get the SBA to back us on a small loan, and then we needed to find a sponsor to show there would be companies interested in working with us. We managed it, but it was definitely a challenge.
What have been your top accomplishments in your career?
A few years ago, we were performing at a corporate event in Chicago and afterwards, we went to see Second City Comedy to see a show. Someone that we knew, knew we were in the audience and they invited us up on stage to perform a third set. And to be asked to come up on the Second City stage and perform with their main stage cast was a huge honor because it's mostly celebrities that are on stage.
I was also able to perform a slot at Groundlings, a well-known theater in LA. I remember thinking that was pretty cool to again be invited on stage. When I think of the top comedy theaters in the world, Second City and the Groundlings certainly come to mind.
We produced and aired an Emmy nominated TV show in Boston, Improv Asylum's Vanity Project, and that was a pretty cool accomplishment. I've always wanted to be a part of the writing/acting/directing and production team that created the show, so to be able to do a 10 episode series that got an Emmy nomination was really great.
We also developed a corporate training program that took off internationally. The program focuses on diagnosing what is going on with the team, what some of the strengths are and some of the potential weaknesses, and how to prepare for those weaknesses/opportunities with the skill set of how we communicate on stage. It also covers how you can be more effective at listening and working off other people, and celebrating each other's differences rather than having that be a point of contention.
What can you tell me about your career plans for the future?
My plans are just being open to new possibilities and to drive engagement even more. I'm looking forward to expanding what I already know, continuing to grow myself, and offering opportunities to the people that I work with.
What are the most important personal satisfactions working in your industry?
In the comedy industry, it's making people laugh. There's something about the joy of bringing laughter to people that is pretty amazing.
I remember there was one family that kept coming to our shows (we didn't know that at the time), they wrote a letter to us afterward. They came down from Canada to Boston every week because the wife in the family was going through cancer treatment. But every week they'd come to see a show. So the drive down as always solemn and difficult, but on the way back they'd have seen a show and they would be laughing from remembering it. It was great to be able to impact people in that personal way.
It's a great feeling to be able to bring a little spark and a little bit of laughter into people's lives.
How do you feel comedy is affected by current trends?
I don't think it's being affected negatively at all. I think it's interesting that from somebody who's done live performances for a long time, I love that live entertainment isn't really going away. People are certainly augmenting what they do and how they choose to entertain themselves, but there's something about a live performance that can't be beaten. Even with all this technology, theaters are still selling out shows. That's exciting for me because I feel like technology tends to separate us a little bit but it seems like people still want to have that live experience.
What is the ideal experience for someone attending a comedy show?
I think the ideal experience is to be able to laugh and forget about whatever is going on in your life for a while. And to really laugh along with the crowd and with what's going on in the show, and not feel marginalized by the humor that's happening or uncomfortable by it. To really embrace it and feel like they're part of the show.
We have that a lot with people sometimes. When people come up to you after the show and they feel like they know you, it's pretty cool, because they feel like they have this bond with you now. You can tell they really felt like they were part of the show rather than just being performed for.
Can you share some career advice to others?
When it comes to comedy, particularly in writing, I think there can be a lot of hesitation. There can be a lot of putting it off and procrastination. If this is something you want to do, just do it. Get yourself in classes, go ahead, start writing. Set aside a half hour each day to write an idea. They're not always going to be great but if you don't write it, if you don't sit down and do it, it's never going to happen.