Executive Chairman of QI Group Vijay Eswaran Talks Business and Philanthropy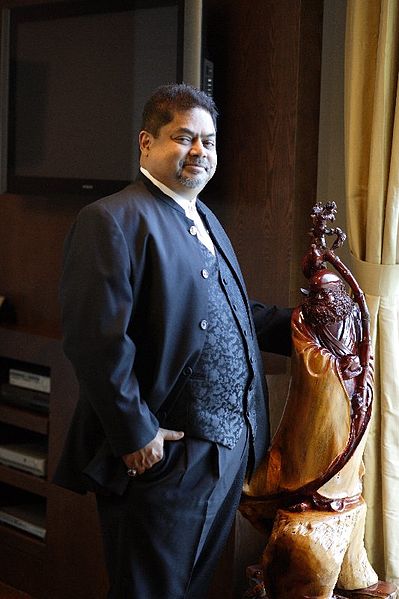 Dr. Vijay Eswaran, Executive Chairman of QNET and the QI Group conglomerate, is directly involved in the areas of direct selling, hospitality, education and more. Vijay began his entrepreneurial journey in 1998 and has created a global presence with QNET. He's responsible for merging direct sales with e-commerce and had thrust his company into the top three in sales out of 42 global distributors by the year 2000.
If you could describe an entrepreneur using three words, what would they be?
I'd have to say intense is one. Then you need to be inquisitive and intuitive.
Every entrepreneur has something that motivates them. What do you use to motivate you?
The people that our business connects with helps to motivate me. I interact with our customers very often and listen to their stories and how our business has made a difference in their lives. It pushes me to try harder, to do better and to continue changing lives every day.
When you first started your business, what were some of the problems and difficulties you encountered? How did you move past them?
It seemed as if nothing was going my way at first. I didn't have any family to help me, no connections or funding. No one believed I could achieve what I set out to do. I wasn't meant to waste my life making money for other people, and I'm so grateful to have found like-minded partners, including the support of my wife. We've faced many setbacks that still occur today, but I believe that if I don't face them head on, then I'm no longer progressing in my life.
My business is always being questioned because of a lack of understanding from people, even though it's a top 40 company globally. The media has even brought up my name in negative ways, saying I'm the founder of a controversial company.
It was six or seven years into our business that a nasty shareholder dispute happened with my previous partners, resulting in slanderous accusations in the media about how my partner and I were criminals. Those days, though they're behind me now, were very dark and hard to get through. But we fought back, got our names cleared and moved on. Still, that controversy follows me to this day, but I've never let what happened stop me or get in my way.
Success comes with challenges. I actually embrace the challenges because I feel that there is no other alternative. Success and failure are one in the same, and it takes both to help me progress and grow in my personal and professional life.
Give a description of your leadership style and also provide some traits you expect to see in potential employees.
"Service above self" — that was the lesson I had learned while growing up with my father. I try to instill that lesson in my team. Although our business is global, we act with the heart of a small company that remains humble and hasn't forgotten where it came from. I remind myself and my team of that fact constantly.
It's not the company that succeeds; it's the people within the company who succeed. Instead of taking a business-minded approach and looking at skill sets, capital and so forth, I now look for like-minded people. I want people who are determined and work hard, who have loyalty, sincerity and trust, but who are also daring in their approach.
I believe a business is like a sports team. It takes the best players who train harder than their opponents and create key strategies while always improving their skills and knowledge. We found everyone in the QI Group by looking at their attitude and mindset. After that, all it took was to train them and to help them take control of the job.
Now that you've seen success, what's next on your list?
We want to found a QI City, which will include an educational hospital for our medical program, a shopping complex, a campus and much more. It'll take a few years, but I'm excited. We already have a university in Malaysia, and our first student body graduates this year.