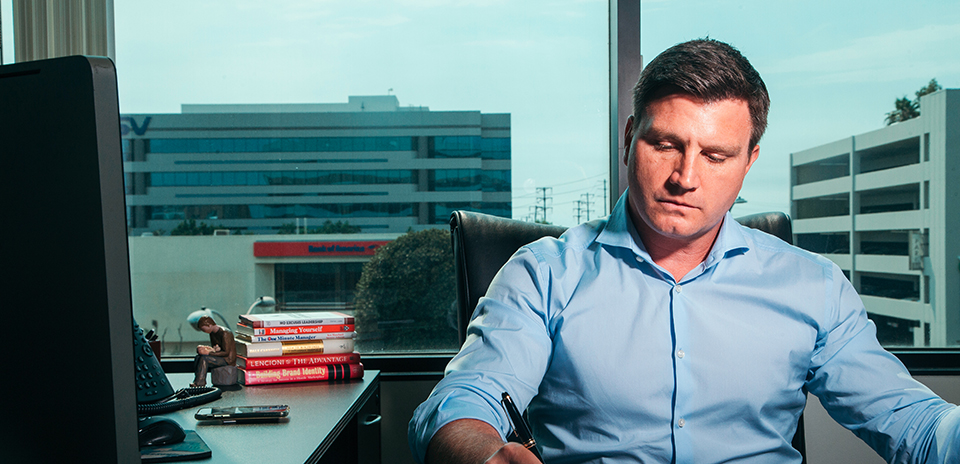 Sean Kelly is the owner of Red Rock Secured, based in El Segundo, California. The company formed in 2009 after the market crash in 2008. Currently, Red Rock Secured employs almost 50 staff members and affiliates, a tremendous growth from their start of 13 employees in 2017.
Over the past decade, Red Rock Secured has received an A+ rating with the Better Business Bureau, Five-star rating on TrustLink, a AAA rating with the business consumer alliance and has been accredited by Consumer Affairs.
Red Rock Secured is currently celebrating its 10 year anniversary and the exciting launch for 2019 is their new home delivery retirement account option where Red Rock Secured can have the metals delivered to the client's doorstep.
Red Rock Secured primarily focuses on protecting retirement accounts from being at risk in a market correction with a never-zero guarantee.
Where did the idea for company come from?
I was working for a company called PPI. It was at the Chicago Board of Trade, which had offices in Chicago and Los Angeles back in 2007 and 2008. After the last crash from the subprime fiasco, we all had to survive though that the best we could. So, after going through that experience, we decided to create a company in 2009 that focused on protecting retirement accounts as opposed to having them out there at risk in a market correction.
Average Americans lost 36 to 40 percent of their retirement accounts in 2008 and we decided to have a focus on physical assets that can never go to zero.
What types of individuals are successful here?
Individuals who meet our three pillars — people "smarts", a sense of humility, and have an infectious energy. We founded the company as a team, it's a team effort. And every single person that comes into an interview at Red Rock Secured, we go over what we think the three pillars are that every person that has the opportunity to join our team needs to continue to grow and be successful with our company. If we can find teammates that have those three pillars, then that is at the core what a good teammate is here at Red Rock, where people thrive.
What's your company culture like?
You know, culture is one of our main emphasis here. We feel that in our industry, a lot of times it can be a very toxic environment, very competitive. And so, what we set out from day one here at Red Rock was to create a positive environment where people wake up in the morning and they're excited about where they're going, where they chose to spend their time. Most of us end up spending more time at work unfortunately than we do with our own families, so we think it's very important to have as positive of an environment that encourages growth as possible.
What is the single largest problem facing the organization today?
I think our largest focus in regards to opportunities that might not just be easy to accomplish, are getting the information of what we have available to the public, because the public has a lot of different options.
There's a TSP retirement account. Those are typically government workers and government contractors. They're not even aware that they qualify for a tax-free, penalty-free transfer out of their TSP accounts.
Then we have the home delivery part. There's a lot of people that aren't aware of the self-directed IRA and that they would qualify for a self-directed IRA where you can actually have the medals delivered to their doorstep.
There's a lot of people with a 401k from previous employers that aren't aware that they can do a tax-free, penalty-free transfer out of that old 401k, lower their annual fees and commission admin fees greatly, sometimes over 80 percent.
There's just so many ways that we can assist so many people. It's hard keeping up with identifying the different areas where we can push our marketing to reach that, to reach those consumers.
What has been the top accomplishments of the organization over the past year?
We're really proud and happy to announce and we're celebrating our 10 year anniversary this year. Also, one of the best accomplishments for me personally, in regards to the company, is that it's been well over a year since we've had to advertise for employees. We're just over inundated with applications and resumes based on our reputation in the industry. I can definitely say that it's a kind of feather in our cap that the word got out in the industry that this is a good place to hang your hat, to have your career.
What can you tell me about your organization's plans for new services, products, or plans for growth?
We're extremely happy to be launching the Red Rock Gold TSP plan. That is a big launch for 2019. And we're focusing on getting the word out about the home delivery for the self-directed IRA where we can have the physical gold delivered to your doorstep.
What are the most important personal satisfactions working with the organization?
So after the last class that was hired, one of my long-time employees came to me and told me how this fairly new employee was talking that morning about how his wife was telling him how happy she was that he can get up and have that spark in his eye on his way to work. That she hadn't seen that in a long time. And just hearing that kind of feedback on how our company culture is a positive force outside of the office, it just made me feel great.  It convinced me that we were doing it, we were creating a place where people are happy.
How does your company differ from your competitors?
We train to be true precious metal consultants, not order takers. We're under no illusion that our prospects and clients have lots of options out there. As a matter of fact, we typically encourage them to go speak to a couple of our competitors to do their due diligence and all we can ask for is the opportunity to earn their business.
We feel like the real difference between the customer service experience at Red Rock Secured is that you get a consultant. I'm not an order taker, and I'm not someone who's going push an order and you're never going to hear from again. We have a strong emphasis on asking our clients what their objective is, what is it they're trying to accomplish. We make sure that they know that they have someone that is listening to their goals and then matching recommendations to those proposed goals, as opposed to just going online or calling in and someone taking your order and you never hearing from them again.
When you come in and you're a client, you're assigned to a team of at least three employees, so no matter what, you know who they are and, with our retention rate at 90 percent, it's very unlikely to have someone else assigned your file.
What types of volunteer work and community service does the organization encourage?
We've made a strong effort here at Red Rock focusing on the veteran community. We believe they're a very underserved portion of our community, unfortunately. We've made it a point actually. And I'm immensely proud to announce that one of our veterans that we've hired here, not only has he received his PhD, he's a doctor now, but we had just promoted him to be director of the retirement services department.
And in that spirit, we have been a proud supporter of the K-9's for Warriors, a non-profit where they take in service animals and train them specifically for each unique injury that veterans have received in the field.
How is this industry affected by the economy?
Our industry is affected positively no matter what the economy is doing.  When the economy is doing well, if the market is going up, typically you'll see the price of physical gold and silver go down. And so that creates an opportunity, a buying opportunity for our prospects and clients. I think everyone's heard that old saying, buy low, sell high.
If the market goes down, it creates an opportunity in regards to us being able to protect your retirement account by placing in assets that can not go to zero. We have a never-zero guarantee because it's impossible for physical gold and silver to get to zero on them. And it creates an opportunity for you, if you have an account with Red Rock Secured, that you have a fire exit established where you can move your accounts into a safe haven of assets to limit your exposure to a market correction.
What is the ideal experience for a customer/client?
For them to call into Red Rock Secured and for them to speak to an individual that they feel is actually listening to their needs and to feel that they have someone that's paying close attention to what their specific objectives are. I then have Red Rock employees customize a solution based on their clients' unique circumstances and once that part of the process has been accomplished, knowing that Red Rock does all the heavy lifting for them.
Can you share some career advice to others?
Make sure that you do something that you love. Make sure that you're passionate on whatever you decide to spend your time on, because all of our time is limited here on this Earth, that it's something that you can feel proud of. So that your days are good.