Q&A with GTeamProductions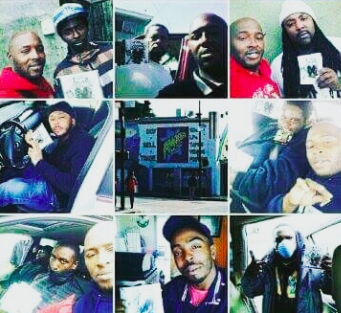 Tell us a bit about Gteamproductions.
Gteam Productions is a independent team of Street oriented business men and women striving to spread realness discipline love to the greater rap and hip-hop community entire.
What gave you the idea for your business and how did it start?
Since I've been home from prison in 2014 I've had a lot of time to evaluate society as it is I had 10 years and two months to think about what I was doing the thinking process that I was carrying on with which led to nothing fast-forwarding to when I paroled I came home helping people promote and showcase their talent and then doing that which I love to do God placed me around individuals who didn't mind showing me the ropes outside of just being an artist who write songs I love to be on the go I love to meet people I love to work situations out and soul I was able to work at a radio station for a couple of years have my own segments take that segment with me copyrighted one thing led to another I started helping a friend sell his CD he said let's make our CD we made our CD which came out March of 201. My returning show because I have toured all of California maybe two or three times since 1994. We did a show in Sacramento present day last year a lot of people came out and supported us really vibed unfortunately our worlds came to a head and we went our separate ways then continue to pursue my dream because it's in me and I've been given a second chance in life and society and this time I am going to make it and so ji team was formed after I did the next show which was in October 2017 I followed that show up with another show in November I follow that show excuse me that was 2017 also I follow that show up with another show in San Jose that was canceled unfortunately and I am booked for a show in San Francisco on the 13th of this month and that is how I get GTEAM my started.
What's your favorite thing about your job?
It surely comes naturally helping others riding music visioning what I've been through and able to manifest it in the way in which I was taught how to manifest it from the people who paved the way before me I love doing my job because it's a challenge every step is a mountain to overcome and I'm up for any challenge I'm ready for a challenge especially one in which entails my journey writing music delivering music sharing music helping people make music I music oriented.
What are your keys to making yourself productive?
Prayer putting God first after I get off my knees that's it and that's all.
Tell us one long-term goal in your career.
Bring a Grammy to the Bay Area.
What's the most valuable lesson you've learned through the course of your career?
To never stop believing in yourself don't second-guess yourself believe in yourself until that's pretty much Paramount in every area in your life believe in your dreams you know what you're good at you know what you love to do take advantage of being in the position to strive for it take advantage of being in a country where you can strive for it.
What advice would you give to others aspiring to succeed in your field?
Master your craft if an artist is with you believe you are good at put all your imagination spirituality experiences into your craft don't be afraid to push the envelope in your craft to be different don't let anybody push you around don't allow people to make you make yourself have a one-on-one relationship with God and he will show you pray and ask him for every assistance and Direction before you make that move.
What are your favorite things to do outside of work?
Mary having children take care of my family watching my daughter grow up sharing good and bad times with them understanding them praising the same God our forefathers prays together going to the same church God plan that's what I enjoy doing living God's enjoyed doing living Gods plan.
Name a few influential books you've read and/or websites you keep up with that you'd recommend to readers.
Malcolm Gladwell he's an author from Jamaica by the way of New York pick up any one of his books.
Ask for websites whatever rocks your boat. Thank you for your time and patience your platform the staff thank you.