Q&A with Karista Harris, CEO of KariRose Designs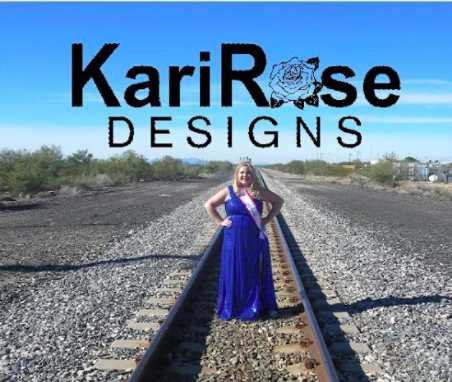 Tell us a bit about KariRose Designs.
KariRose Designs is custom designed evening wear for all shapes and sizes, tall, petite and specializing in the plus sizes. As a survivor of child abuse and domestic violence KariRose Designs also designs for a cause by giving back a portion to child abuse and domestic violence organizations. I started offering custom designs because there seems to be so many cookie cutter gowns that are mass produced in same sizes. Just because a gown is a size 4 doesn't mean that gown will fit someone that normally is a 4. It may be to big or too small. Or most of it may fit, but the top is too big, etc. Not to mention you are not the only one with this gown design, hundreds of other girls and ladies have access to the same gown. That is where KariRose Designs comes in. I believe in getting to know the client first, their personality, likes, dislikes, what parts of their body they want accentuated or hidden and then creating designs from that information.
What gave you the idea for your business and how did it start?
I started designing gowns at about 11 years old as a creative outlet to deal with an abusive childhood. I took to evening gowns specifically, due to  the gorgeous gowns featured in some of my favorite movies like Benhur, Samson and Delilah and the Ten Commandments. As I got older I struggled to find gowns that were long enough for me as I am 6'0 tall and also gowns that were my size as I am plus size. I finally decided to start bringing my creations to life and produced several gowns that I have showcased in several fashion events and in pageant competitions. I received many positive comments and requests to have gowns designed so I decided maybe it was time to share my talent with world and started KariRose Designs.
What's your favorite thing about your job?
The favorite thing about my job is seeing ideas formulated in my mind put onto paper and than physically brought to life. It is such an exhilarating feeling to see a finished gown.
What are your keys to making yourself productive?
For me being productive is easy. I gather inspiration for designs anywhere I'm at and then make sure I jot down notes or sketch out some of the details right away. Its easy to be productive when you are doing something you truly love.
Tell us one long-term goal in your career.
My long-term goal is to be a worldwide brand, not only focusing on evening gowns but adding in quality plus size clothing stores that cost significantly less than the 2 main plus size brands in the world today, and of course designing for a Hollywood celebrity or two would be awesome. Additionally I would like too add to my brand, men and women's fragrances.
What's the most valuable lesson you've learned through the course of your career?
Don't overthink something, just take the leap.
What advice would you give to others aspiring to succeed in your field?
Study everything historically and presently to learn your craft. Expose yourself to the communities you want to succeed in via books, magazines, local events and my personal favorite: televised red carpet events. Take chances with your designs, no one made it big by playing safe.
What are your favorite things to do outside of work?
I love watching Netflix, Hulu, pageants, anything related to dancing or singing and most importantly volunteering in my community.
Name a few influential books you've read and/or websites you keep up with that you'd recommend to readers.
I've read Tony Robbins "Awaken the Giant Within," "Notes From a Friend'" and "Minimalism: Lead a Meaningful Life." Although the books themselves may not be a part of the fashion world they do allow you to free yourself of personal and mental clutter to allow you to be the best possible person you can be. Thus enabling a clearer mind, which in turn allows one's creativity to flow.