Q&A with Eddie Hamid, CEO of iAdvance Now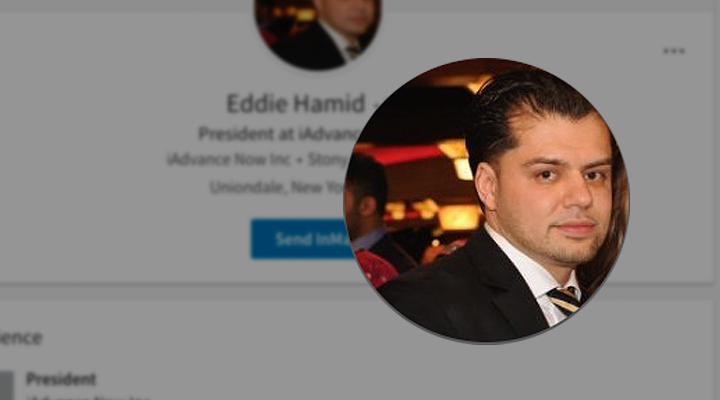 Eddie Hamid is among the emerging business leaders of the new generation. He is a financial industry expert who also finds assisting people to attain economic empowerment close to his heart. This is the reason why he came up with iAdvance Now. In this brief interview, we'll learn about his company and also the man himself in a bit more detail.
Introduce us to iAdvance Now.
iAdvance Now provides a variety of different financing solutions to firms in various industries. Small firms and startups that are usually not able to secure institutional or bank funding could turn to iAdvance Now for assistance. Based in New York, Hamid formed the company with his cherry-picked team that can easily assess a firm's financial scenario and offer creative solutions.
Thanks to Hamid's leadership, iAdvance Now has become a major resource for firms in different industries that seek business credit, lines of credit, invoice factoring, cash and credit card advances, term loans, etc. The company has already helped several entrepreneurs in trucking, retail, entertainment, automobile, wholesale, etc.
What do you like the most about your job?
The best thing about my job is the fact that I can help businesses or people, who are cash-strapped and finding it difficult to get on the business growth trajectory, progress. Funding is a major issue for most small businesses, resulting in a lot of firms getting nipped in the bud. The inner satisfaction that I derive from seeing people and their companies succeed and prosper is a feeling that cannot be described in words.
What are the things you believe have contributed to your productivity?
The reason why we've been doing so well is that we're offering value that's hard to find elsewhere, which is creating innovation in funding. The other major reason is the belief we have in ourselves and our business model. iAdvance Now has been in the realm for more than eight years now (since 2013), and never have we doubted the path we've taken and are taking all this while. Also, our team is highly skilled, talented, experienced and willing to put in hours of hardship and commitment non-stop.
What is your vision or long-term goal?
My long-term goal is already something that I am working on. The only challenge or thing I am looking forward to is being able to magnify our operations and help a lot more people and businesses that now. Going forward, I would also like to cover every functional nuance there is to running the lending business.
What is the one big lesson that your career has taught you?
Networking, and more networking! Too many professional contacts is a myth and as a business person, you should always be looking to associate with more people at different levels. If I could turn back the clock on me and become the younger and more naïve me, I would urge myself to travel and meet more people. By the way, you need not necessarily head to different countries – even traveling to different towns and cities located close to your place would present you a lot of business and life insights and raw information to chew on.
What would you like to tell people who look up to you and want to succeed in life as well?
One generic but still very important piece of advice that I would offer to people wanting to succeed is to work hard and do that consistently. I would like younger people to quickly realize that life is difficult but not impossible to tame and master. You'll certainly have your fair share of frustrating moments and periods that stress you out completely, but those difficult scenarios should not bog you down or stall your progress. In fact, tackling them head on is the only way to move forward, which would also equip you better to handle them in the future.
What keeps you busy outside of your work?
Besides reading books to satisfy the voracious reader in me, I am quite curious about blockchain technology and cryptocurrencies and finding out the impact they would have on the lending industry in specific. In other words, I am learning quite a bit about cryptocurrency-related content. I also like cooking. In fact, I have also bought cooking devices specifically to satiate my urge to cook.
Name some of the books that you'd like your followers or general people to read.
I have read quite a few books and I can confidently state that all that literature has had an impact on my professional and also personal life. Some of the books worth mentioning are Eric Ries' The Lean Startup, Napoleon Hill's Think and Grow Rich, etc. There are many other business-related books that throw light on how startups could acquire what they require for success.
That said, I also like reading non-business books that provide philosophical guidance relating to financial strategy-making and empowerment. Sun Tzu's The Art of War and Steven Covey's The 7 Habits of Highly Effective People are noticeable examples of such books.