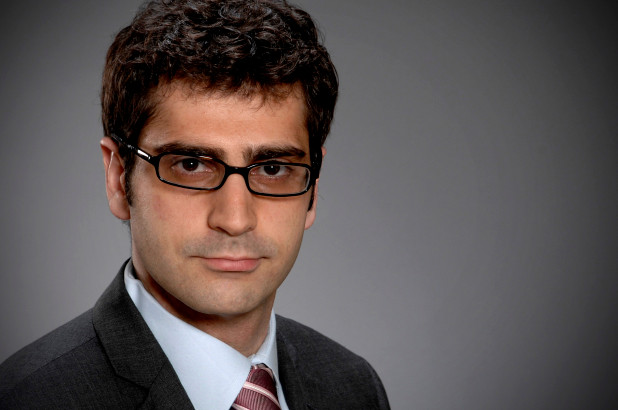 Sahm Adrangi is a contrarian hedge fund manager. He founded his firm, Kerrisdale Capital in 2009 during a key point in market history: America's recovery from the greatest financial crisis since the Depression.
Born in Iran, the Adrangi family moved to California when Sahm was young, then to Canada shortly after, into a small town called Kerrisdale. A Yale student, Adrangi wasn't always infatuated with markets. In fact, he was once an anti-capitalist, writing in the Yale Daily News " When I first set foot on Old Campus, I couldn't wait to stick it to the man and topple his evil capitalist empire." After becoming obsessed with markets and switching his major to economics, Adrangi got his start in finance at Deutsche Bank working on leveraged finance, where he helped structure financing for leveraged buyouts, and chapter 11 exits.
After leaving Deutsche Bank, Adrangi went to Chanin Capital Partners where he mostly worked on chapter 11 restructuring and out-of-court reorganizing. From there, Adrangi was hired at Longacre Fund Management, doing analysis for both their credit and equity funds.
Kerrisdale's beginnings are unlike that of most hedge fund launches, where the manager starts with a large rolodex and raises lots of capital from the get-go. Sahm started trading with $300,000 from his shared apartment and struck gold with a 40% return in his first year, which opened the door for later capital raises.
Kerrisdale grew to prominence through Sahm Adrangi's ability to leverage internet channels like Seeking Alpha and Twitter effectively. He started by publishing scathing research reports on fraudulent US-listed Chinese companies who go public through reverse mergers ( rather than filing an S-1 and going through the IPO process, the shadier companies opt to buy a majority stake of an old shell company that still trades OTC and merge with the shell. Boom, now you're
a publicly traded company ). After doing this once, Adrangi saw the power of reporting on micro and small cap stocks. Even with a small following, he can move the market quickly.
It's worth mentioning that while he makes most of his trades on the short side, he doesn't consider himself an overall market bear, as he told Worth in March 2018.
What Sahm Adrangi Looks For In a Fraud
If you open up an issue of Investor's Business Daily and flip to an advertisement, you'll quickly become aware of your average investor's thought process. They're looking for a secret formula developed by a Chinese farmer mathematician who graduated from Harvard to trade the commodities markets.
The truth is, when it comes to Sahm's process, it's pretty simple.
Financial Statements
When it comes to numbers, he looks for irregularities in financial statements, particularly looking at metrics like margins, growth, and return on capital. When he sees a business growing much quicker than their industry peers, it's worth a closer look, especially when there is nothing obviously unique or proprietary about the company.
Cross-Filing
This step only applies US-listed foreign companies. Sahm looks for variance between the filings with the SEC and the company's home country. For example, when Sahm was researching China Education Alliance, he found that they were reporting revenue of $50 million in their SEC filings, but revenue of less than $1 million in their filings with the Chinese government.
Unnecessary Equity Dilution
Another red flag for Sahm is when a company that doesn't seem to have cash problems (i.e. strong free cash flow) continually raises capital through public offerings, especially when the current cash on their balance sheet would cover the capital expenditures they're raising money for.
Auditor and CFO History
Another less-considered step of analysis applied by Sahm is the auditor and CFO history of the company. When they're analyzing a company that is at the top of their respective industry but still uses an unknown auditor, that's a large red flag. Similarly, when a company opts for a younger, inexperienced CFO instead of an industry veteran, Sahm gets more skeptical.
Further, looking at the clients that the auditor has can be an indication. Often times, the auditor's main clients are other suspicious companies.
Finding Short Ideas
Run Up After a Catalyst
When a biotech stock runs up after a catalyst like a successful trial result, that is usually ground for a deeper analysis by Sahm to see if the move is justified.
High Share Turnover
When a biotech stock has a high turnover in their shares (i.e. people are trading it heavily and not holding it long), that's another reason for Sahm to take a look. This is because the short-term traders that are taking positions are usually less informed about the fundamentals of the company, and are instead capitalizing on the hype surrounding a stock to make a quick trade. Sahm finds that these types of situations can create a disconnect between the truth and the stock price.
Large One Day Moves
Similar to share turnover, this is another situation which makes Sahm's ears perk up. When a stock makes a large percentage move in one day, most people haven't even had the time to do
the research behind what's driving that move. Often times, people make trading decisions based on trend following and headlines in these situations. This creates another opportunity for Sahm to perform a deeper analysis and separate the truth from hype.
Mania
The above three situations refer to a situation of possible irrational crowd behavior. Lots of people are following the trend, making decisions on headlines, and are afraid to miss out on the move. Because Sahm's overall strategy revolves around market contrarianism, any situation where the crowd has maddened represents opportunities.
Sahm's Prominent Shorts
China Education Alliance
China Education Alliance was the first report published publicly by Sahm and Kerrisdale. Previously, Sahm was publishing his reports under the moniker ChineseCompanyAnalyst on Seeking Alpha.
It was this report that began to generate internet buzz around Sahm Adrangi and Kerrisdale Capital, with the report being picked up by Zero Hedge, and mentions in other publications like Motley Fool.
Kerrisdale found that despite most of CEA's claimed revenue coming from their website, the website was non-functioning and had less traffic than comparable websites with less revenue.
While one can simply chock up the website issues to cultural differences or the company's poor adoption of technology, that wasn't the end of it. Kerrisdale hired a private investigator in China to visit the company's training center. It was found to be mostly empty and absent of any teaching equipment.
The report, released on November 30th, 2010, pummeled the stock over 50% within two hours of publishing.
As you can see, the bleeding never stopped.
Northern Dynasty
Kerrisdale's bearish report on Northern Dynasty Minerals (NAK), a junior copper and gold miner, was perhaps their most controversial position. While a relatively small firm, NAK has a cult following of investors who believe in the merits of their Pebble Mine. Although Kerrisdale's report sharply moved the market, it also attracted more critics than any report previously or since, especially considering Kerrisdale's opinion that NAK is "worthless."
The Kerrisdale report came among hype surrounding the stock, with it tripling in four months amid speculation that newly elected President Trump's EPA would be more friendly to the project. The junior mining space is famous for these types of story stocks, which makes it a perfect candidate for Sahm & Co.
The report opted not to focus on the political speculation, but instead on the economics of the project itself. It stated:
Northern Dynasty has skillfully exploited the Trump narrative to reignite enthusiasm for a company that the market had left for dead. But "telling a good story" is all Northern Dynasty has ever been good at. It's not just some stroke of bad luck that everyone who has touched the Pebble deposit, from Teck to Mitsubishi to Rio Tinto to Anglo American to Northern Dynasty itself, has given up on it or tried to; the project is fundamentally and irretrievably flawed, requiring far too much expensive infrastructure to generate an adequate return on investment mining low-grade ore. Our discussions with technical experts directly involved in the project indicated that Northern Dynasty itself has long been aware of these fatal flaws but opted to paper them over rather than fess up. Nonetheless, Northern Dynasty can't keep the charade going forever; without a deep-pocketed partner, it will ultimately perish. [Source]
It's been more than 18 months since their report on NAK, and their thesis has held up in the court of market opinion.
Eastman Kodak
In February 2018, Sahm and Kerrisdale announced their short position in the Eastman Kodak Company. In the midst of the blockchain craze, a 138-year old camera and film company decided it would be a good idea to start a cryptocurrency. This was during a period where stocks like Riot Blockchain (formerly a biotech company that decided to pivot to blockchain technology), and Long Blockchain (formerly known as Long Island Ice Tea, a soft drinks company) were doubling and tripling after announcing their involvement in blockchain technology.
From its beginnings as IP-troll software, to hiring a shady stock promoter, to deceptively marketing their KashMiner mining rig, the release of KodakCoin was likely doomed to fail from the start. The inevitable was only shortened by Kerrisdale's report.
In regards to cryptocurrency and blockchain hype, Sahm hasn't seen a trend so big since the Chinese frauds he experienced during his early days at Kerrisdale. He sees the successful blockchain/crypto stories happening on crypto exchanges, not stock exchanges.
DISH Network: Sahm's Big Short
Back in April 2016, Reuters reported that Kerrisdale Capital was raising $100 million to short one stock, of which was yet to be named, it being the biggest capital raise for a single short stock position in history. The only detail revealed was that it's a $10 billion dollar company.
Then, on May 11, 2016, Kerrisdale released a report on DISH Network detailing their bearish case on the company. Sounds like a typical day at the Kerrisdale HQ, however, this position is very different. That's because DISH is Sahm's Big Short .
Everything about this short looks like Bill Ackman's Herbalife bet. From the website created for the consumer public to easily understand the case, to treating the position as a public relations campaign which not only involves the investing public, but consumers as well, to the raising of $100 million dollars for the position.
One can also say that Sahm is taking a page out of Andrew Left of Citron Research's book, with the inclusion of their demonstrative video. Left, a fellow short seller, makes his short reports concise, easy to understand, and exciting for the less-informed individual investor to consume.
The main point made in their short thesis is that DISH has invested most of their value into spectrum licenses that the company is convinced they can flip to Verizon or AT&T at a higher price. The brunt of it is that Verizon and AT&T are the only theoretical buyers, and that their license on this asset expires in 17 months. (from September 2018, date of writing)
While DISH's true fate won't be known until 2020, the market has been moving in Kerrisdale's favor throughout 2017 and 2018.
Morgans Hotel Group Proxy Fight
Sahm approaches all of his investments, on the long or short side, from a value investing philosophy. Most of the time he is deploying this strategy on the short side, shorting inflated valuations, but as he and his firm are maturing, he's increasingly finding himself on the long side.
In tune with their activist style, Sahm and Kerrisdale decided to try their hand at full-on activist investing a la David Einhorn in 2013. Kerrisdale bought 4.3% of the Morgans Hotel Group, a boutique hotel chain that owns brands like Delano and Mondrian.
Kerrisdale got involved amidst an active proxy battle between Ron Burkle's Yucaipa, and OTK Associates (a firm controlled by the Taubman and Olshan families) and took the side of Yucaipa. Kerrisdale and Yucaipa wanted to put the company up for sale immediately, as they believed the assets within Morgans were being underutilized by current management. OTK, on the other hand, wanted to run the company for a year to prepare it for a future sale.
OTK ultimately won control of the board, leading to a lawsuit between OTK and Burkle. It took until December 2016 for Morgans to be sold to SBE Entertainment. According to The Real Deal, Yucaipa was given 25% equity in SBE, while the rest of Morgans' shareholders, presumably including Kerrisdale, were bought out.
Summary
Sahm Adrangi is a contrarian short seller who grew his firm from a mere $300K to close to a quarter of a billion dollars in assets under management today. From his first brush with fame short selling Chinese reverse mergers, to his most ambitious position: a $100 million dollar short position in a $15 billion dollar satellite giant, he has proved his ability to generate alpha as a short seller in a raging bull market. Most recently, Sahm is focused on what he calls an "ethical short" in QuinStreet, an adtech firm that Sahm claims is still relying on "shady" practices to generate revenue.