Q&A: CEO Eric Lefkofsky on his Cancer Data Health Tech Tempus Labs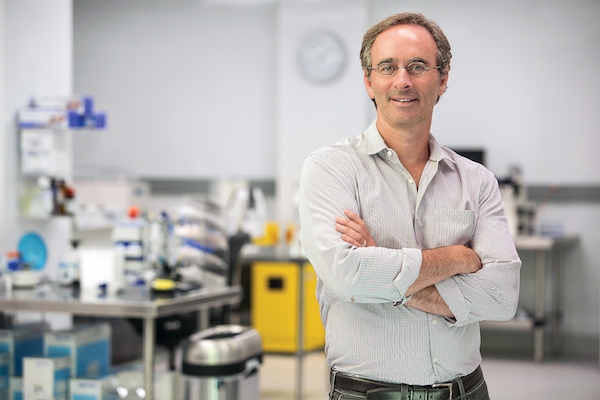 Atul Butte (MD, PhD, Director, Institute for Computational Health Sciences, UCSF) interviewed Eric Lefkofsky (CEO of Tempus and co-founder of Groupon) over a Fireside Chat at this past Precision Medicine World Conference PMWC 2018 Silicon Valley. Eric Lefkofsky was also among the invited speakers at PMWC whereby he gave a talk under the category of "Transforming Big Data into Actionable Information". The title of his topic was "The Scalable Systems Framework for AI and Deep/Machine Learning."
Formerly known as the Personalized Medicine World Conference, the Precision Medicine World Conference (PMWC) is an independent and established conference that is attended by recognized healthcare and biotechnology authorities and experts. The Conference is an exceptional medium that offers attendees exposure to different directions and aspects of precision medicine. It is visited by all the multi-disciplinary stakeholders – showcases practical content that helps close the knowledge gap by different sectors. It thereby triggers cross-functional collaboration to further adoption of personalized medicine in the clinic. The conference was established in 2009. It attracts about 13,000 attendees and 2,500 companies and hosts 2,000 speakers. Conference Co-Hosts include the University of California – San Francisco, Stanford Health Care, Duke University, DukeHealth, Johns Hopkins University, and the University of Michigan.
During the Q&A, Eric talked about Tempus, his health-tech startup whose aim is to facilitate cancer treatment via Big Data analytics by taking advantage of the recent human genome sequencing, science and technology advances. He also elaborated what he believes are the biggest hurdles that cancer treatment is facing as well as how Tempus is working to address the challenges via data and precision medicine. In one of his statements he elaborates that, "Our experience stems from our work with about 50 of all 69 NCI cancer centers and a few hundred hospitals, or in other words by working with about 25% of all cancer patients. There are so many different types of treatments one can give a cancer patient and in all conversations with physicians, we learned that they are frustrated with the lack of data for guided treatments. This has to stop!" "Treating a cancer patient without the benefit of modern software is the same as driving at night without headlights. If you don't introduce some amount of data, you will end up going down the wrong path," he states.
Can you tell me about your transition from Groupon to Tempus? You co-founded both, yet the two companies are drastically different. How did the idea of Tempus come about?
I spent the last two decades of my life building technology companies spanning across different sectors and yet all of which focus on structuring unstructured, messy data at scale, with 15,000 people involved. My wife was diagnosed with breast cancer about 3.5 years ago, which had me spend nearly all of my time at the clinic. She received great care. However, being surprised to see just how little data permeated her treatment, I began to do quite a bit of research. I spoke to physicians and private data companies, and I realized that the cancer data infrastructure was completely broken. My idea of solving that problem was to equip the physicians and researchers with the information they need in the form of data, which has to be completely revamped. This means that first, siloed clinical data had to be pulled out of the large medical systems. We then had to be able to abstract the data and structure it into clinical records. This is followed by combining clinical and molecular data, which then had to be combined with bioinformatics and analytics tools that could handle the data volume and make sense of it. All this together had to be done at low cost and essentially in real time.
You have established partnerships with 50 out of the 69 NCI cancer centers. Can you elaborate a bit on what it is like to collaborate with the top cancer centers in the nation?
We targeted academic medical centers and cancer centers from the very beginning since we were aware that this was going to be a bit of a challenge. Large medical centers have the advantage of running several clinical trials in addition to their large research groups who can make sense of the data. The data collection part was not as tricky as was making sense of the data and delivering it to the patients. We have collected vast amounts of both clinical and molecular data, which I like to call 'clinically annotated exomes of data.' If we assume that we have 5,000 plus clinically annotated exomes of data in pancreatic cancer, the clinical variability of therapies, the off-labeled drugs, and the doses without approved standard of these patients are all unbelievable.
We have designed a demo that demonstrates the literally thousands of combinations available for these pancreatic cancer patients. However, as of now, that data is lost. In other words, every day we run the largest phase III clinical trial in the world, and the data that is captured is not saved anywhere. So the obvious first step is to capture the data and establish a model to organize and combine it with molecular data before finally putting it into people's hands. That's the best means by which any form of precision medicine can be ushered.
Tempus has been around for only 2.5 years. How were you able to raise $130M in Series C as well as built a team of experienced and talented scientists during such a short period of time?
From the very beginning, we have consciously avoided some of the publicity that others were seeking early in their life cycle, and this is why we crazily still view ourselves as being in stealth mode. So we are about to put in another $100M in funding in addition to the $130M we already put in before. But we are in a unique place because we do not need that money the same way as other companies do. I especially realized that advantage when I was at JP Morgan. I saw all these startup/private companies conducting investor presentations, and I was confused about why a private company would want to put themselves through public scrutiny. But then, of course, a private company must do that if it needs the funding.
As a company, Tempus is very problem-focused, and we believe that the data challenge in cancer care and health care, in general, is a problem that can be solved. In other words, we believe that we can make rich data accessible to oncologists, pathologists, radiologists, surgeons, or researchers. We are also convinced that if we do that, despite it still being largely unknown, we could most likely save anywhere from 100,000 to 600,000 patients from dying on a yearly basis. That is our only priority, and despite any amounts of money or rounds of capital that are flowing in, we are focusing on both delineating the problem as well as the solution for it.
You have devised a strategy to collect all the data that is out there – from clinical records to archival samples –  so that you can help oncologists learn about the different cancers, in particular what has worked and what has not. Can you talk a bit about how you help patients benefit from those that came before them?
We are predominantly interested in phenotypic and drug-response data. The information we are after is who the patients are, what drugs they are taking, and how they are responding to those drugs. We abstract records at scale and capture about 50 – 70 fields of data per subtype. Our internal team of abstracters are able to abstract 5,000 – 7,000 records per week using natural language processing (NLP). My goal is to decrease the time from about 30 min/record down to 15 – 20min/record. In terms of cost, we are aiming to abstract these records for about $10 – 15, which is a fee that would enable constant abstraction.
There is currently so much money put toward migrating to large HER/EMR systems, and yet it is unlikely we will make that transition any time soon. Capturing genomic data was expensive when these systems were built. There were no NLP tools and AWS was not part of our reality. Now that these big data tools are accessible, the data ought to be moved out and combined with other orthogonal data sets. Only then will we be able to answer questions people are asking and then bring the answer back in.
In addition to collecting and digitizing all the existing cancer patient data, Tempus has its own sequencing facility where you sequence the cancers yourself. Is this consolidation of clinical and molecular data your way of enhancing the quality of current data storage?
Structuring clinical and molecular data and doing that at a lost/low cost is the first step toward ushering precision medicine and bringing the data to this problem. We also realized that one of the biggest hurdles for us was the high cost of sequencing, and if we were serious about achieving what we had set out to do, we had to start offering these panels at much more affordable costs. So while others charge much higher prices, in the $5,000 – 6,000 ranges, for our smallest CLIA-CAP assay that is offered with germline and full transcriptomics sequencing and yields large amounts of data, like 5GB of data, we offer it at a cost of about $1,800, which we eventually hope to decrease to $180. In other words, we aim to make sequencing and structured data so inexpensive and as such drive it to an absolute de facto standard for every cancer patient and eventually other diseases such as diabetes or infectious diseases. But this comes second to fixing the underlying data problem.
There is speculation about physicians possibly transitioning to becoming softer on the emotional side. How do you plan to go about communicating with them and ensuring that physicians act on any of this?
The popular belief everywhere seems to be that the data is terrible, but I have to correct that right off the start and underline that that is not the case. Data is not terrible at academic medical centers because if it was, we would have patients dying left and right. Data quality is reasonable. It is just that it is in an unstructured and messy shape, which makes it difficult to pull it together.
This is reflective of the atmosphere among oncologists who do not want to spend their days watching their patients die. As such, they are incredibly receptive for the most part to anyone who is going to equip them with tools that will be beneficial to their patients. There is a willingness to admit the faults of our current cancer strategy that is not working rapidly enough, and we are open to new strategies.
Can you elaborate on Tempus' recent partnering with ASCO CancerLinQ and the increase in its dataset? What are the outcomes of the newly established collaboration?
The team at CancerLinQ have been doing incredibly well in their partnerships with large hospitals and cancer care centers, as a result of which they have collected a lot of data. However, they are facing similar issues when it comes to structuring those vast amounts of data. Having seen our technology at Tempus, is eager to apply it to the large cancer data set they have been curating. Having partnered with a company called PHAI, Tempus and Precision HealthAI will organize data into high-quality datasets, which will be accessible through the core CancerLinQ quality improvement platform and CancerLinQ Discovery, which is a service that provides access to high-quality, de-identified datasets for non-profit organizations, health care providers, academic researchers, and government agencies. We will then make these curated datasets available to industry partners for enhanced applicability. The aim is to use them in order to establish targeted therapies, more efficient clinical trials and data-driven analyses, all of which would ideally yield therapy options with the greatest patient benefit.
Creating something that is sustainable is the ultimate goal. However, public data initiatives – which at first sound appealing – do not compensate people for cleansing and structuring data. This means that people don't have an interest to contribute to the data as they are not getting much out of it. The results – small initiatives that are not really going to help with cancer – are not sustainable. We would need a million patients with available clinical and molecular data on a sustainable basis, meaning that that would have to be an ongoing effort. The winner here, we believe, is finding ways to take copies of de-identified data along with individuals who find that data valuable. That is the means by which we can create something sustainable.
About Lefkofsky
In addition to Tempus, Lefkofsky's other entrepreneurial ventures include Lightbank, a venture fund that focuses its investments on disruptive technologies, Groupon, a global e-commerce marketplace, Uptake Technologies, an analytics platform for the world's largest industries, Mediaocean, an integrated media procurement technologies provider, Echo Global Logistics, a technology-enabled transportation and logistics outsourcing firm and InnerWorkings, whose focus is on providing managed print and promotional solutions globally. Each business model is much like that of Tempus – it focuses on using scale and organization in addressing problems that have been traditionally solved on an ad hoc basis.
Lefkofsky is also an avid philanthropist. He has founded the Lefkofsky Family Foundation together with his wife. Its primary aims are the advancement education, fundamental human rights, medicine, art and culture initiatives. Both have also committed to contributing nearly half their wealth to philanthropic causes through their membership at The Giving Pledge. Lefkofsky also serves as the Chairman of the Board of Trustees of the Steppenwolf Theatre Company that is based in Chicago. He is also on the board of trustees of the Lurie's Children's Hospital of Chicago, The Art Institute of Chicago, The Museum of Science and Industry and World Business Chicago. Lefkofsky has held teaching positions at the Kellstadt Graduate School of Business at DePaul University as well as at Northwestern University's Kellogg School of Management. He is currently an adjunct professor at the University of Chicago's Booth School of Business. He also authored the book Accelerated Disruption: Understanding the True Speed of Innovation.
About Tempus
One of Chicago's top ten health tech startups, Tempus is a technology company focused on building the world's largest library of molecular and clinical data. Lefkofsky based Tempus on a software platform that relies on optical character recognition and NLP that gathers electronic healthcare records from several medical institutions and transforms them into structured data. Tempus works on combining the vast amounts of data with an operating system so that the data is both accessible and useful. The health tech houses an interactive analytical and machine learning platform whereby it enables physicians to provide their patients with personalized cancer care by having access to patients' genetic and molecular data. The company provides services such as genomic sequencing and analysis of molecular and therapeutic data based on which physicians can make real-time, data-driven treatment decisions. As more data is acquired, Tempus' aim is to offer physicians tools so that each patient is to benefit from the treatment of others who came before them. In addition to collaborating with the majority of the NCI designated Comprehensive Cancer Centers, it has also partnered with a number of the nation's highly esteemed hospitals as well as academic institutions.
For more information, please visit lefkofsky.com, LinkedIn: ericlefkofsky, Twitter: @lefkofsky or Facebook: @eplefkofsky. For more information on Tempus, please visit tempus.com, Facebook: @TempusLabs and Twitter: @TempusLabs.